I am a user experience designer working for a new startup in Fargo, ND called FarmQA. FarmQA is at the insection of tech and ag. We are delivering the consumption of farming IoT data to growers across the world. As the principal desginer at FarmQA, my job responsibilities span from defining the vision for our software products, researching our users, driving the visual identity and of course meeting our customer's needs
Resumé
Principal Designer —
FarmQA
2017 to present
I am responsible for all aspects of the user experience design for FarmQA's suite of products. My current responsibilities include:
Directing the development and enhancement of all user facing features
Designing and maintaining farmqa.com
Implementing my designs in web technologies
Directing our front-end developers on new features
User research
Trade show marketing materials
Defining work breakdown structures for developers on key features
In my tenure at FarmQA, I have redesigned much of the core product. I have designed and helped implement our first mobile product, FarmQA Scouting. Directed the effort to redesign the FarmQA logo. Defined a visual language for FarmQA products based on the Material design language.
User Experience Designer —
Microsoft
2001 to 2017
Responsible for the design and user experience architecture of a wide range of user experiences within Microsoft Dynamics including applications for Finance and HR departments. In this role, I have translated user requirements, business problems, and scenarios into efficient interfaces using storyboards, wireframes, prototypes, and usability testing.
I have also defined the user interface implementation strategy and architecture for the web based presentation framework, specifically defining how HTML and CSS were used. I have also been responsible for make sure that our product designs are accessible.
Additional responsibilities include abstracting the core interaction patterns from a set of over 3000 forms with the end goal of creating a framework that allows us to make all 3000+ forms more consistent.
As user experience architect, defined the strategy for the next generation HTML5 based Dynamics AX for desktop and mobile experiences.
Defined the HTML5 and CSS3 coding guidelines for the presentation framework and implemented the LESS CSS compiler.
Led the implementation of the CSS3 framework for the presentation framework and mentored other designers in CSS3.
Designed the Dynamics AX 2012 user experience in collaboration with other designers. Wrote guidelines for program managers and third party ISVs.
Designed the user experiences for an HTML based HRM module.
Defined and designed a new information architecture for Microsoft Dynamics.
Designed and received a patent application for a dynamic user interaction model based the configuration of an adaptive business process.
Software Engineer —
Great Plains
1993 to 2001
Designed, created specifications and developed user interfaces and widgets for a proprietary cross platform 4GL development tool. In this position, I gained a reputation for writing detail oriented requirements and designs. I was also responsible for fixing any bugs in Dexterity on both the Win32 and Macintosh versions of the product as well as DBA/Network administrator. I also designed and developed the Great Plains Personal Time & Billing, an application for the Apple Newton, one of the first mobile applications in 1993.
Portfolio
FarmQA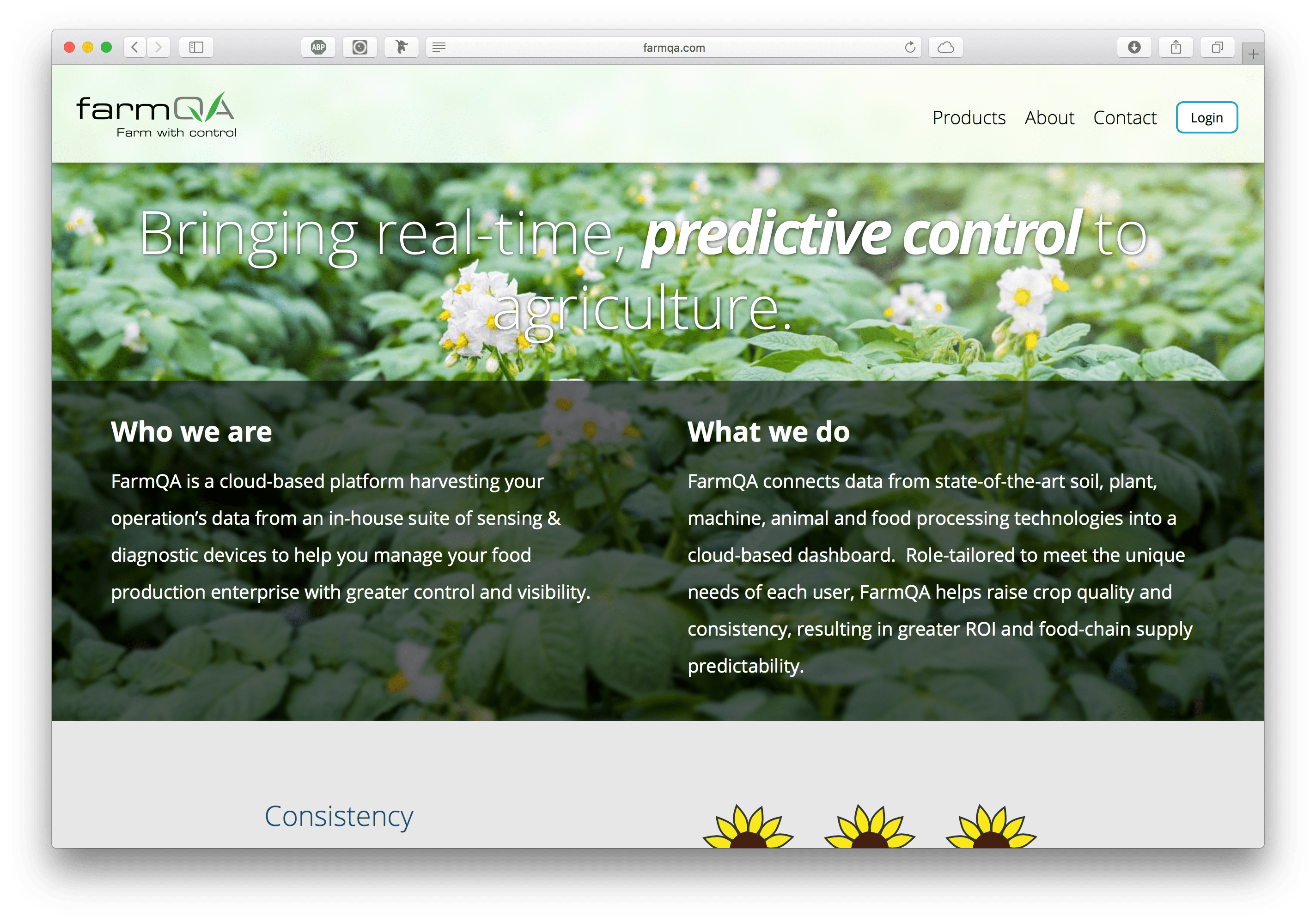 As the principal designer at FarmQA, I am responsible for a variety of efforts. On of our first priorities was the design of a mobile application for scouting fields.
Microsoft Dynamics 365 Talent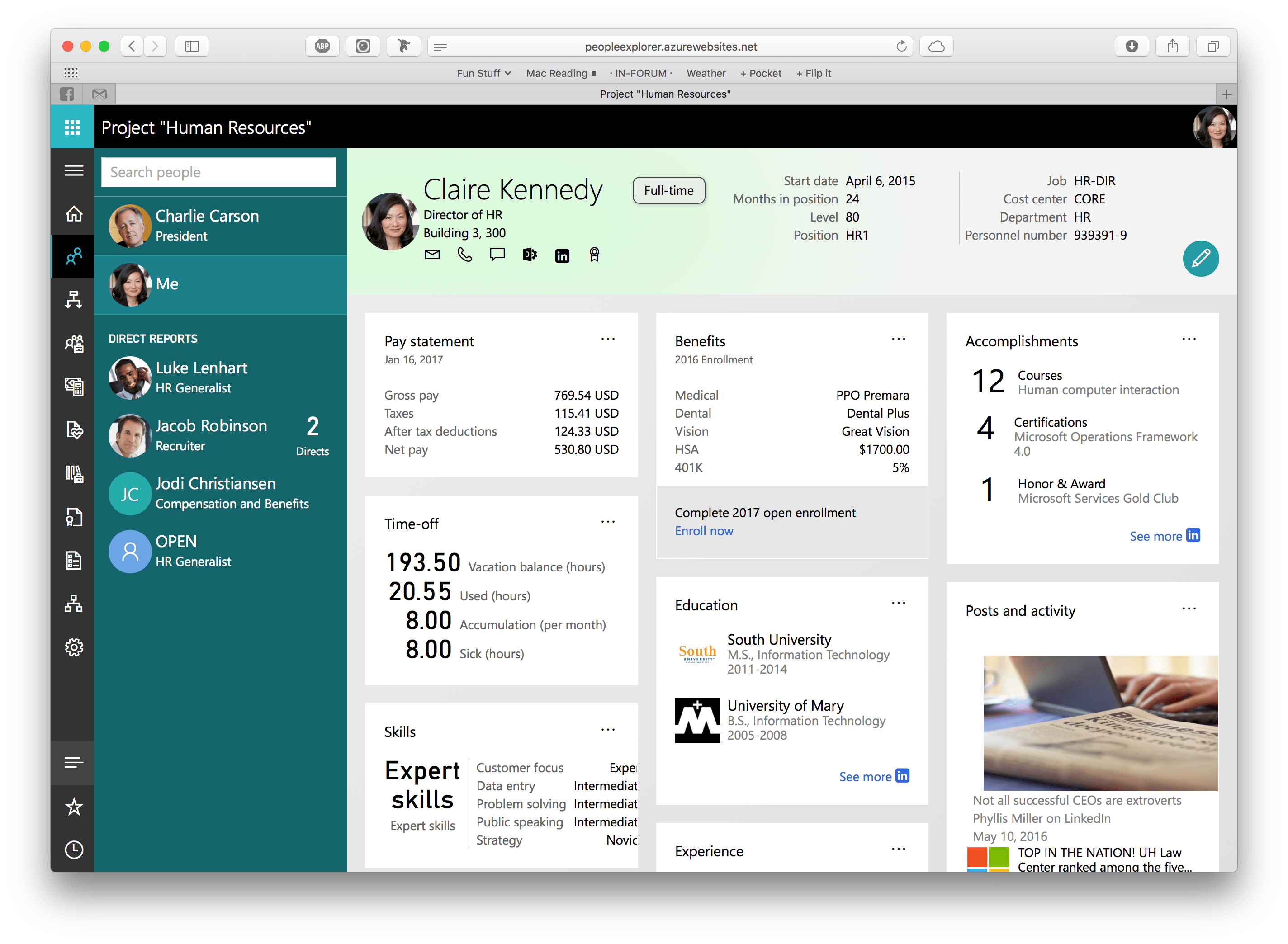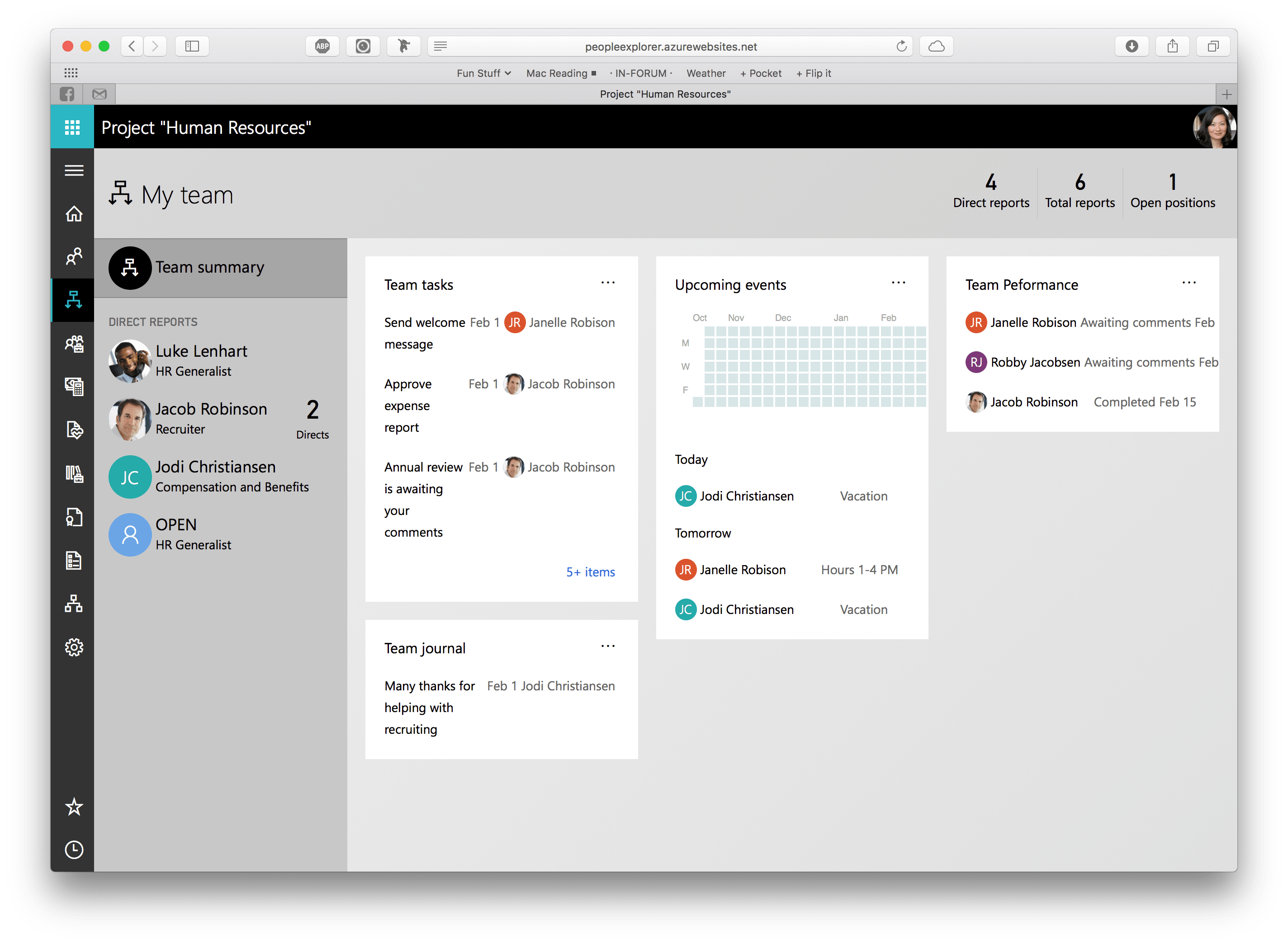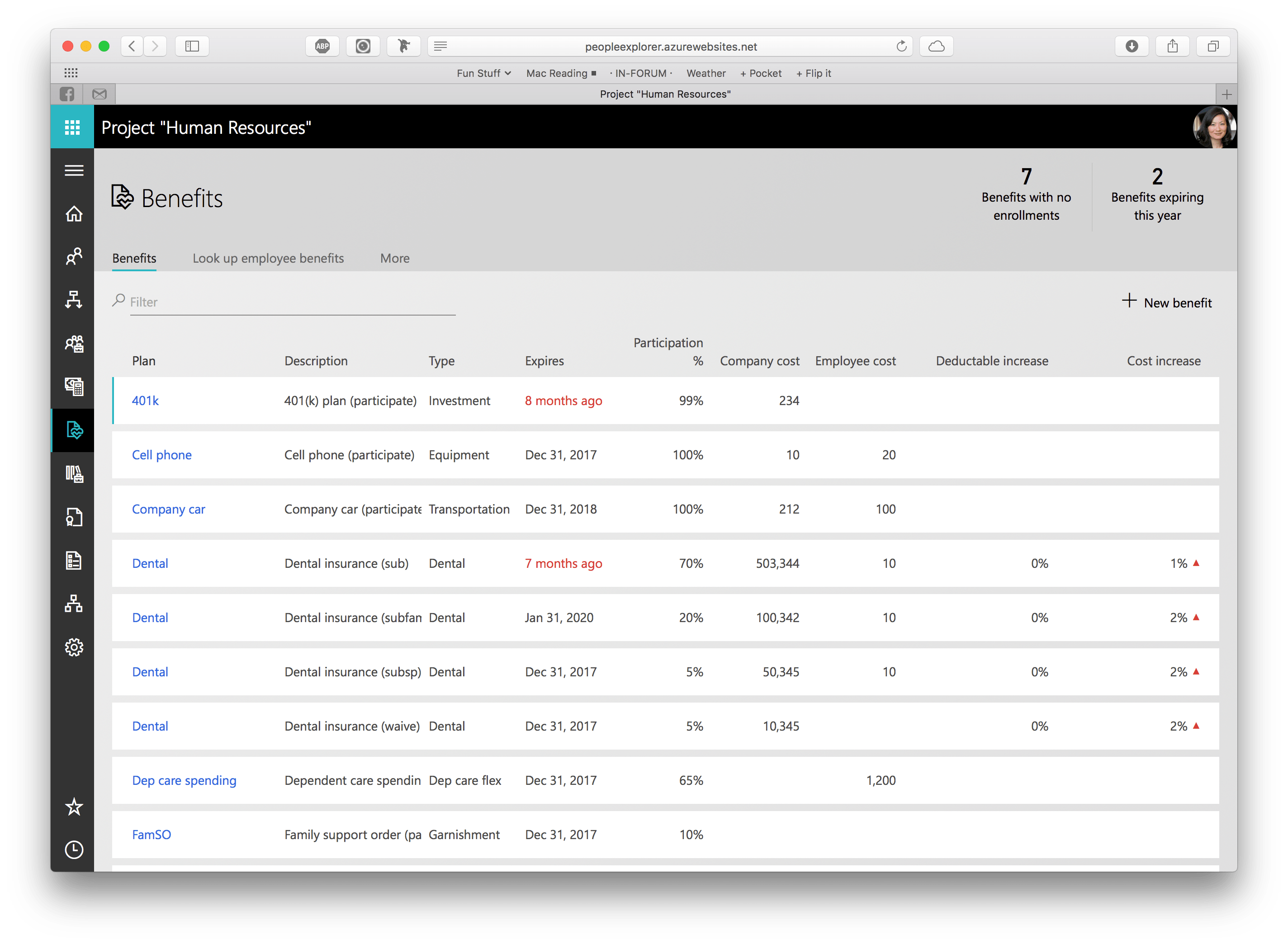 Microsoft Dynamics 365 Talent is a re-imagined version the Microsoft Dynamics AX Human Resources module. As the primary designer for this effort I developed the design goals for this product. Those goals included:
Simplicity. Since this was migrated from AX, it was inheriting a fair bit of complexity.
Delightful. We wanted to improve upon the flow and function of the AX animations and took it to another level.
Functional. And above all we still had to be functional and do all of the things that human resource managers needed as well as employees.
I also designed the innovative "people centric" navigation paradigmn that focused the main navigation on people. The key element of this design is the people navigator, which presents the organziation chart of a company as the primary way to navigate the product.
Microsoft Dynamics AX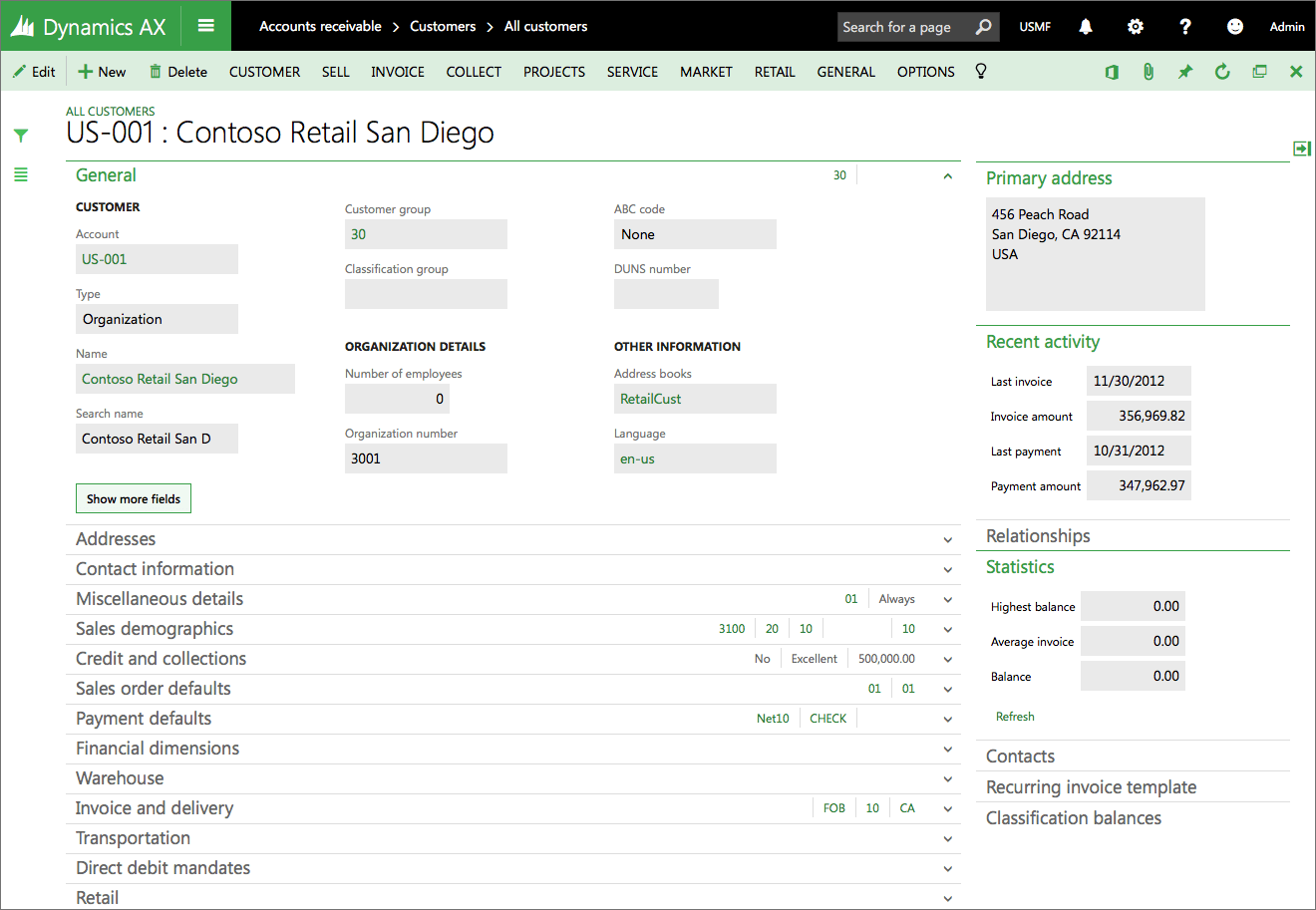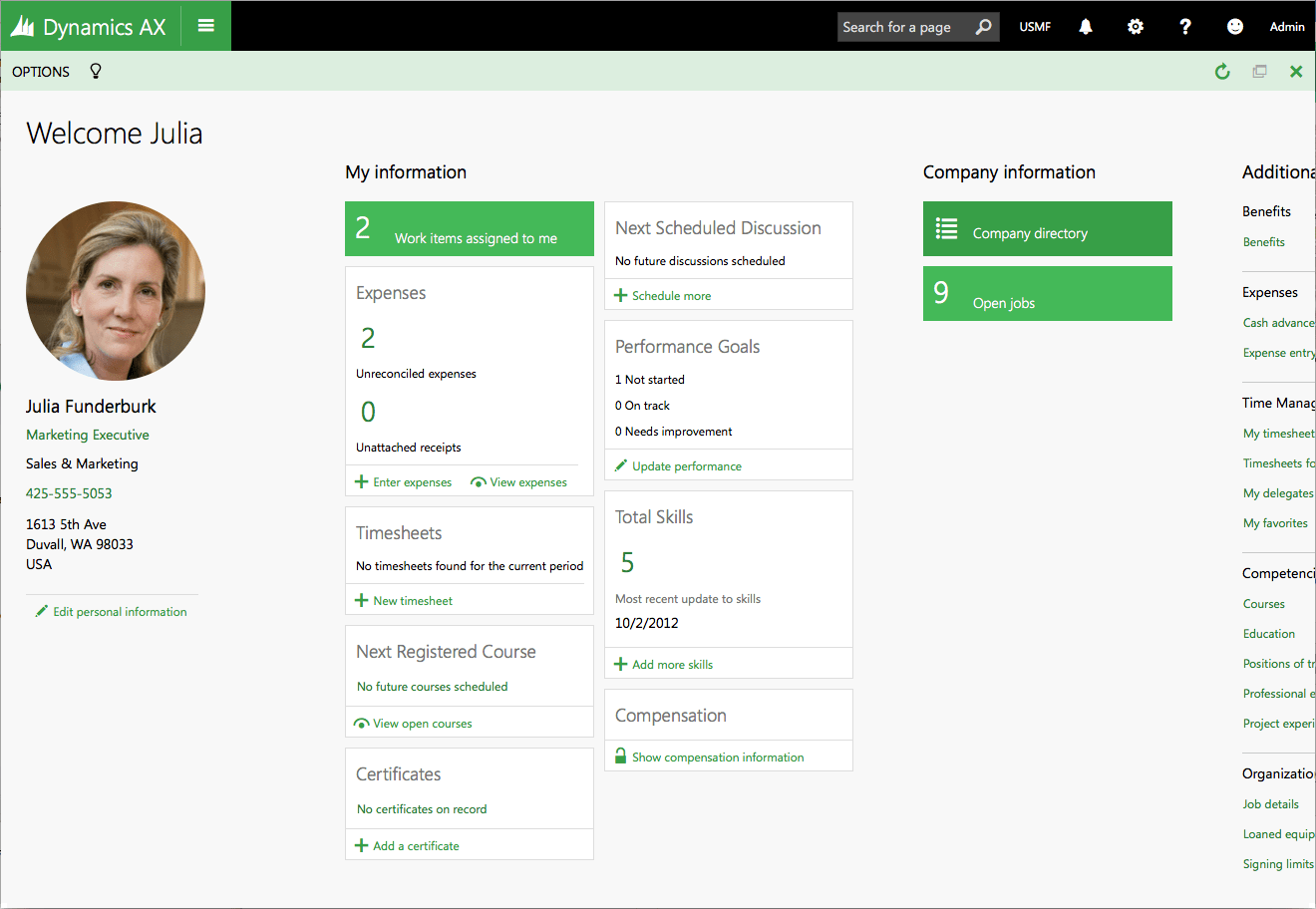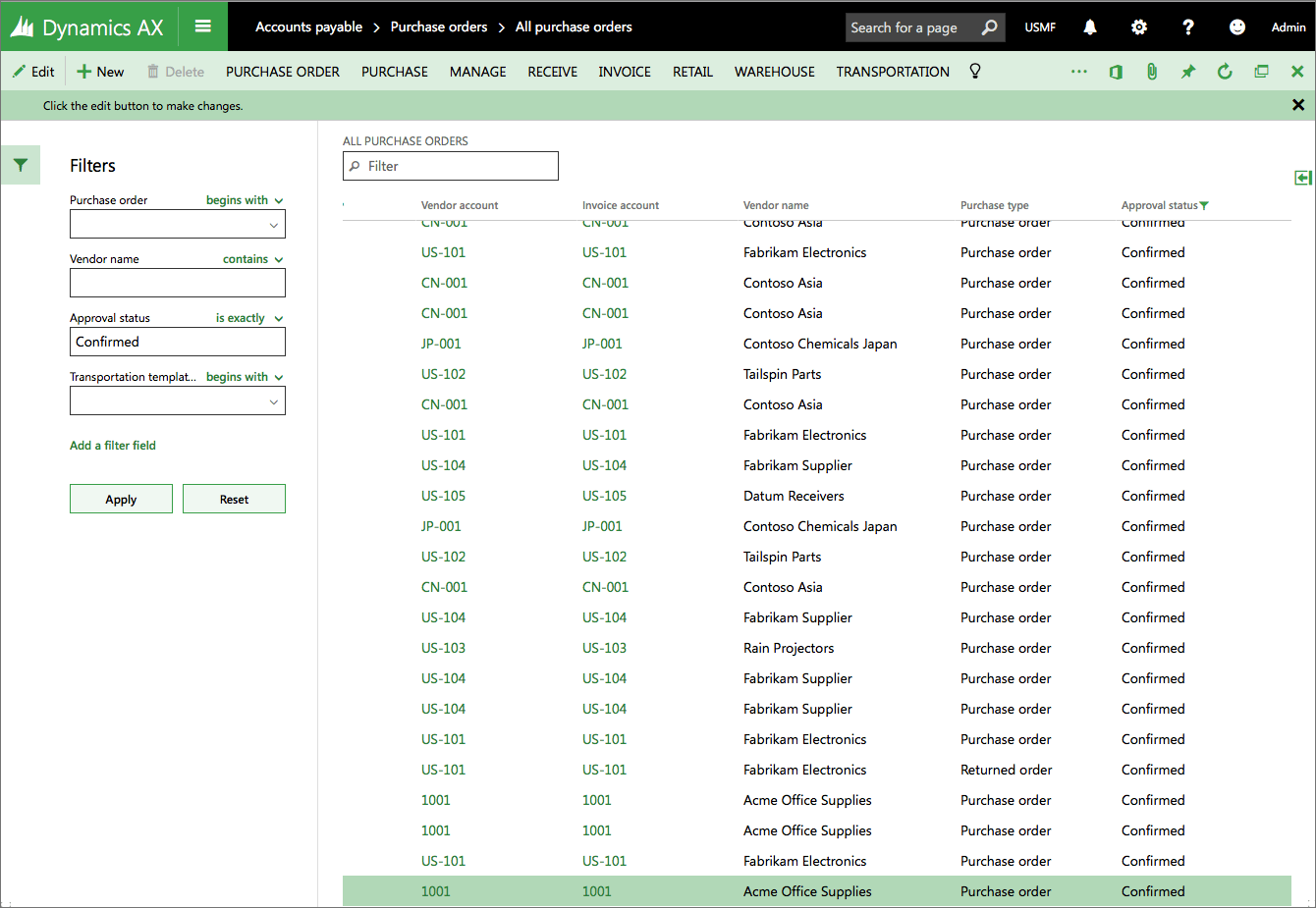 This product re-imagined Microsoft Dynamics AX from a Windows based application to a single page web app.
As the user experience architect, I facilitated the design strategy for the common usage patterns and rework of AX from a Windows application to HTML. This project has required the design team to deliver:
Task analysis and task type development based on the Dynamics Customer Model. The task type analysis led to the development of basic interaction patterns for an ERP system.
Scenario development and research
Scenario based wireframes
Wireframe toolkit development
User interface component design and specification
Component prototyping and front-end development using HTML5, CSS and Javascript
User interface guidelines and upgrade strategies from the legacy product
Led a team of front-end developers working on the CSS and HTML for the client of Dynamics AX. Assisted in implementation of a visual test strategy and architected the CSS standards for the organization.
Defined the CSS architecture for a multi-device, multiple theme and responsive web application.
Control development within the custom Angular-like binding services developed for Dynamics AX.
Dynamics AX 2012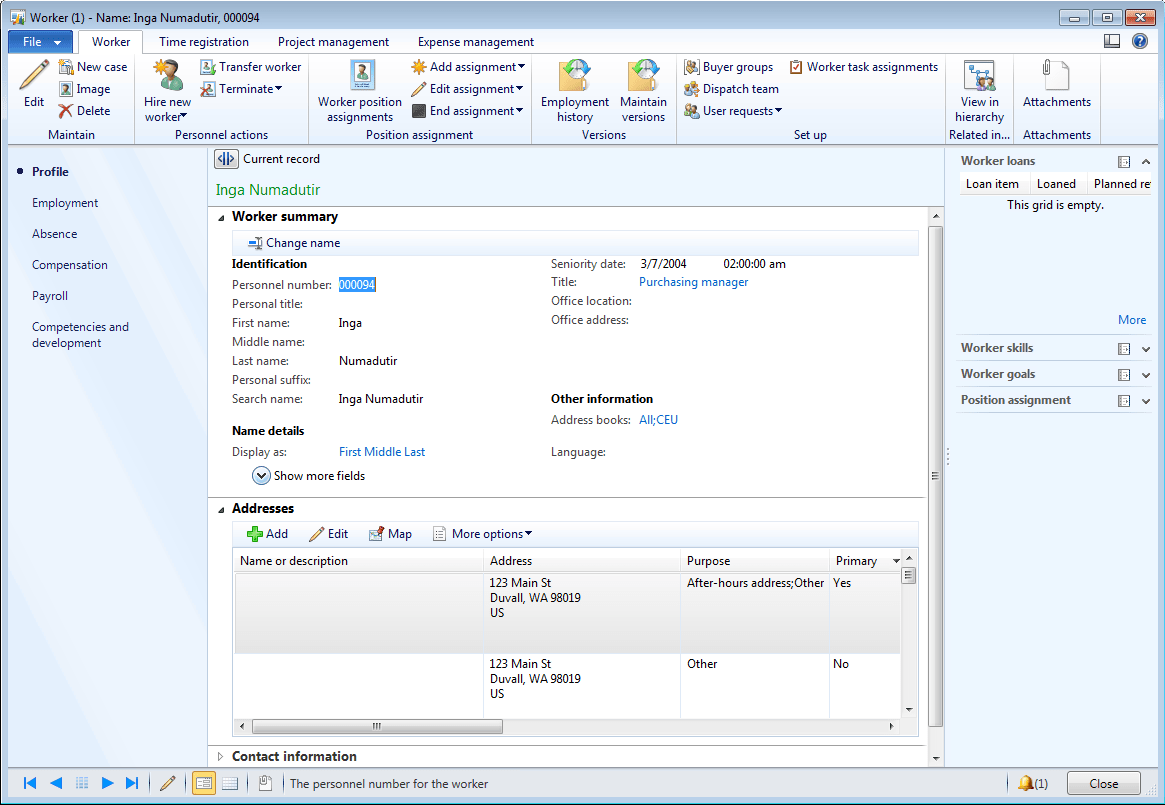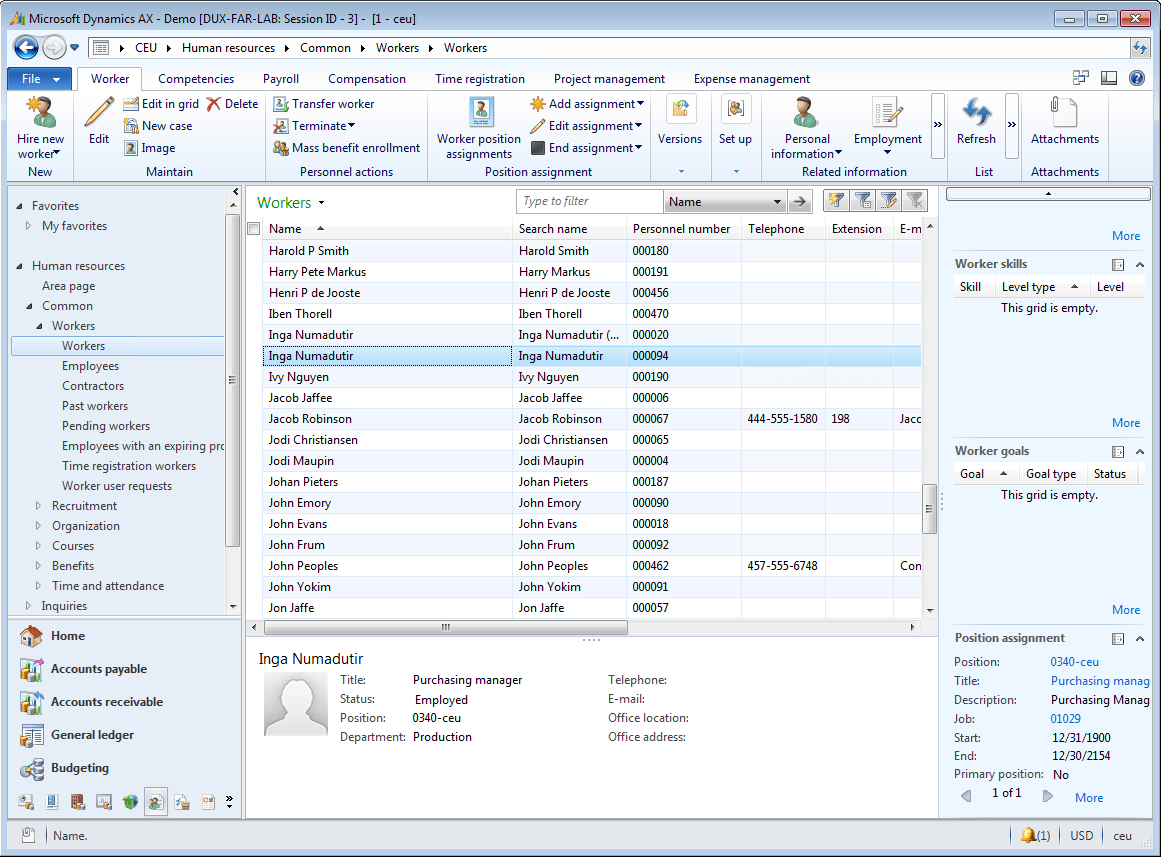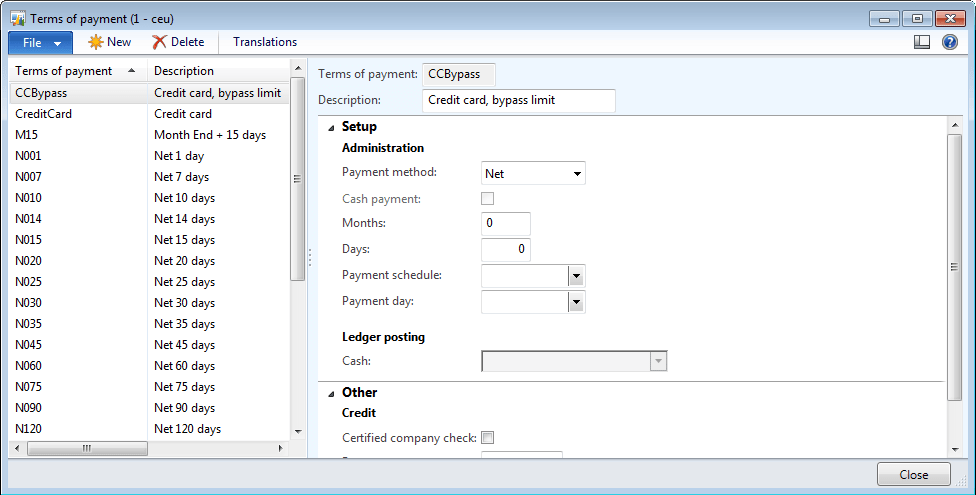 For the Dynamics AX 2012 release I led the team designing the core user experiences. This team researched the common problems and pain points across the system and determined how best to solve these issues for maximum benefit. The team redefined the patterns used by over 1000 forms.
A key challenge of the project was how convert over 3000 existing forms to new patterns in a cost effective manner.
Web based HRM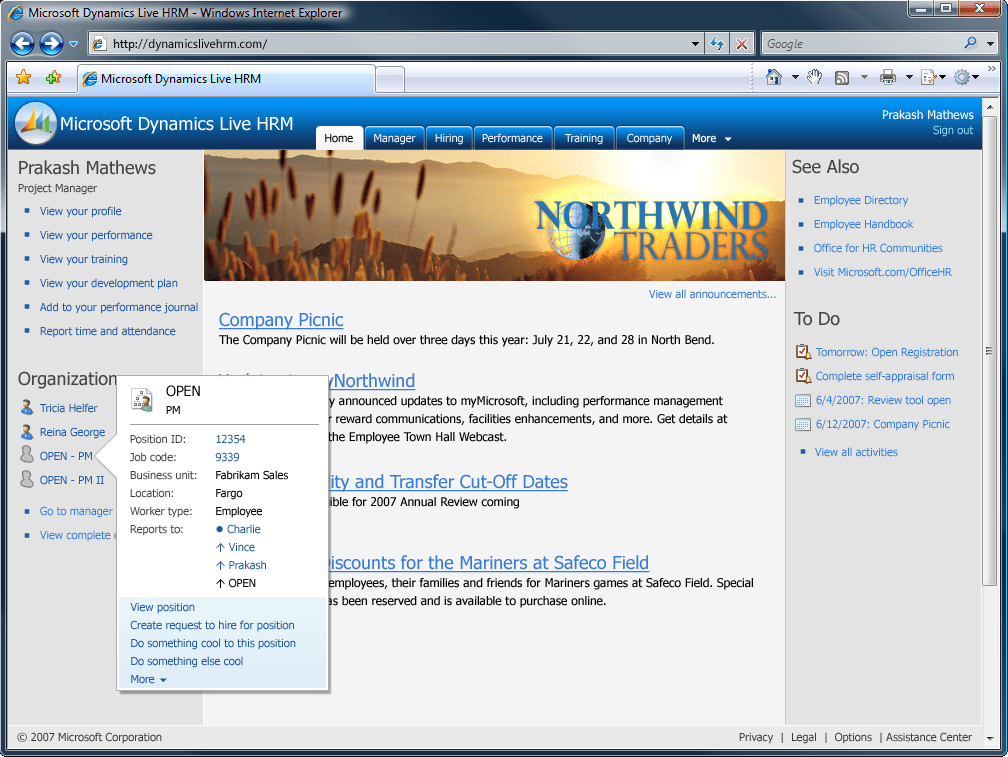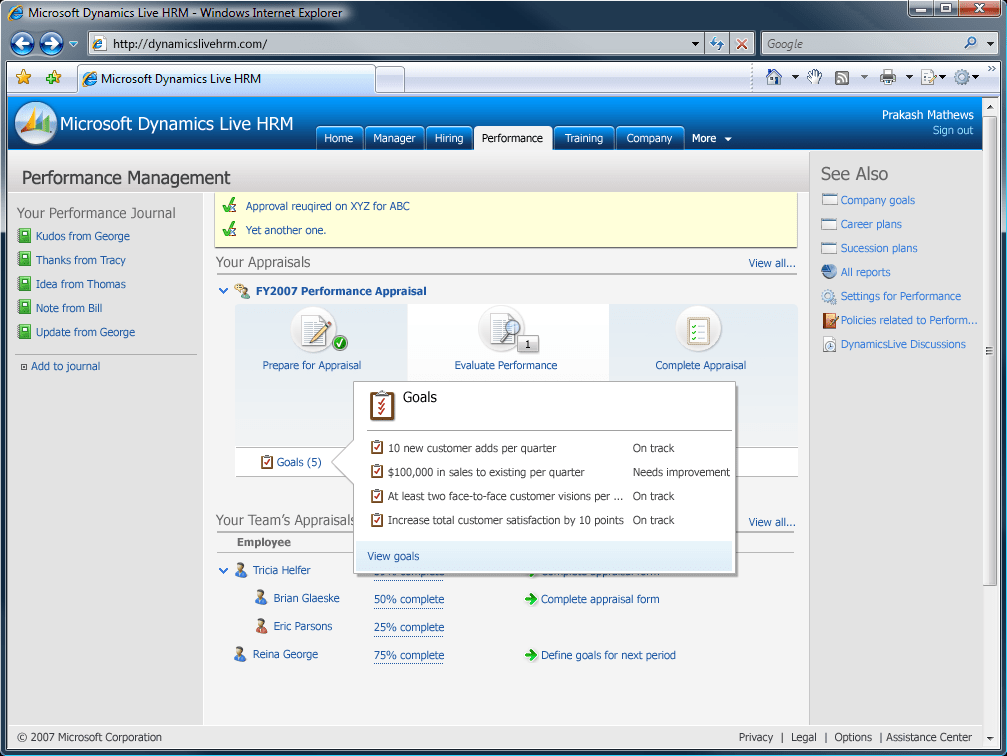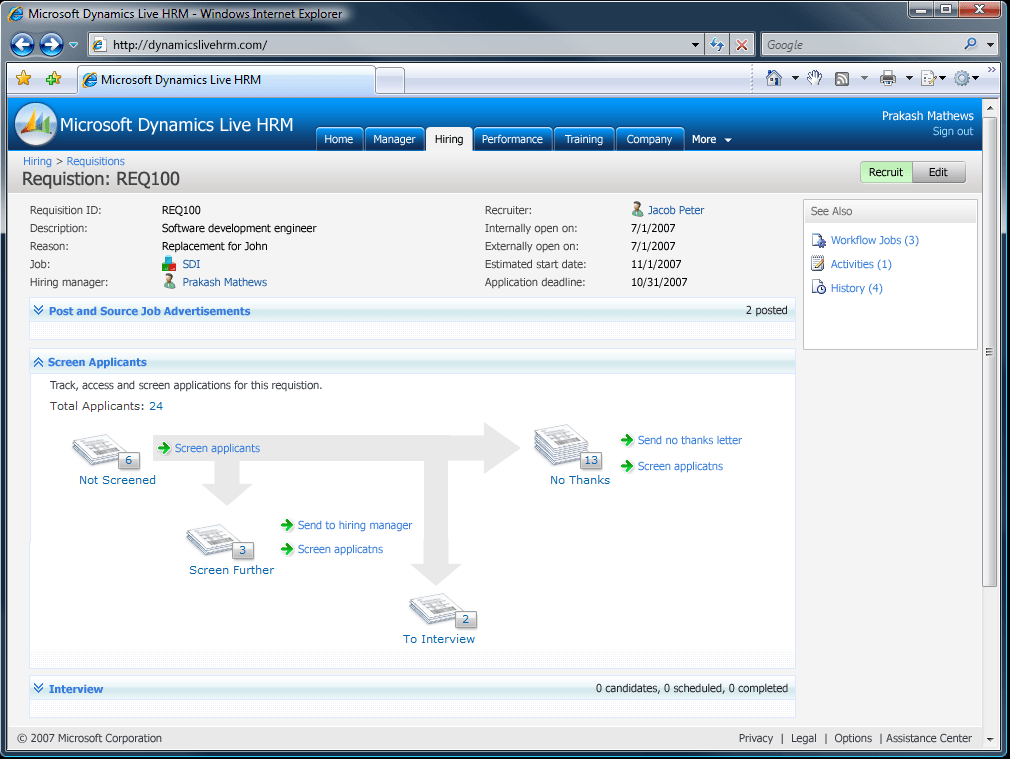 This was to be a brand new HRM application integrating to Microsoft Dynamics to provide web based access to human resource data to employees. The design task was to deliver designs, guidelines and research. One of the primary innovations of this project was an interaction pattern library of the acceptable patterns. Research and learning about users of a human resource application allows development and many new innovations, including the use of expanded tooltips and activity centers.
Activity Centers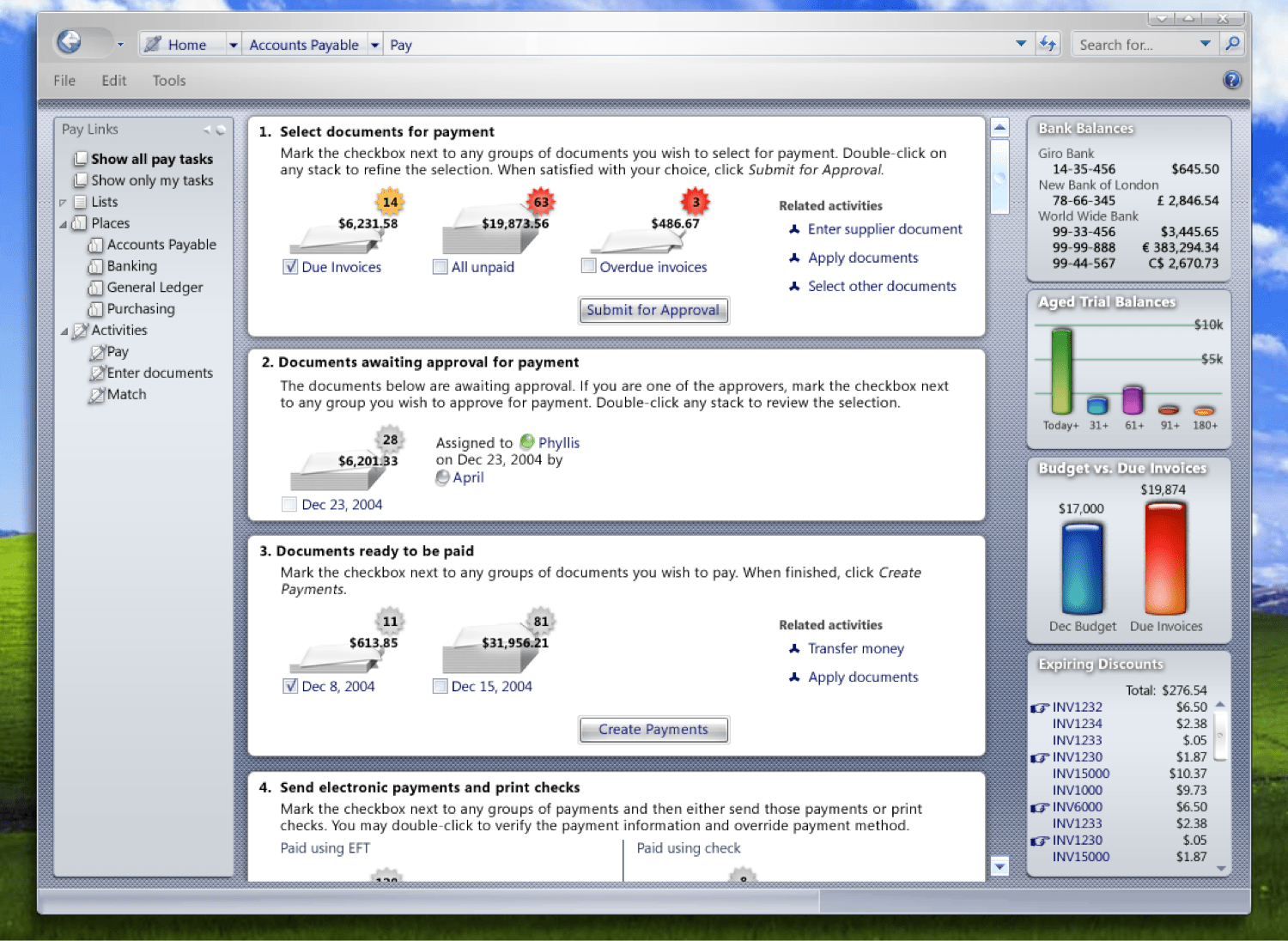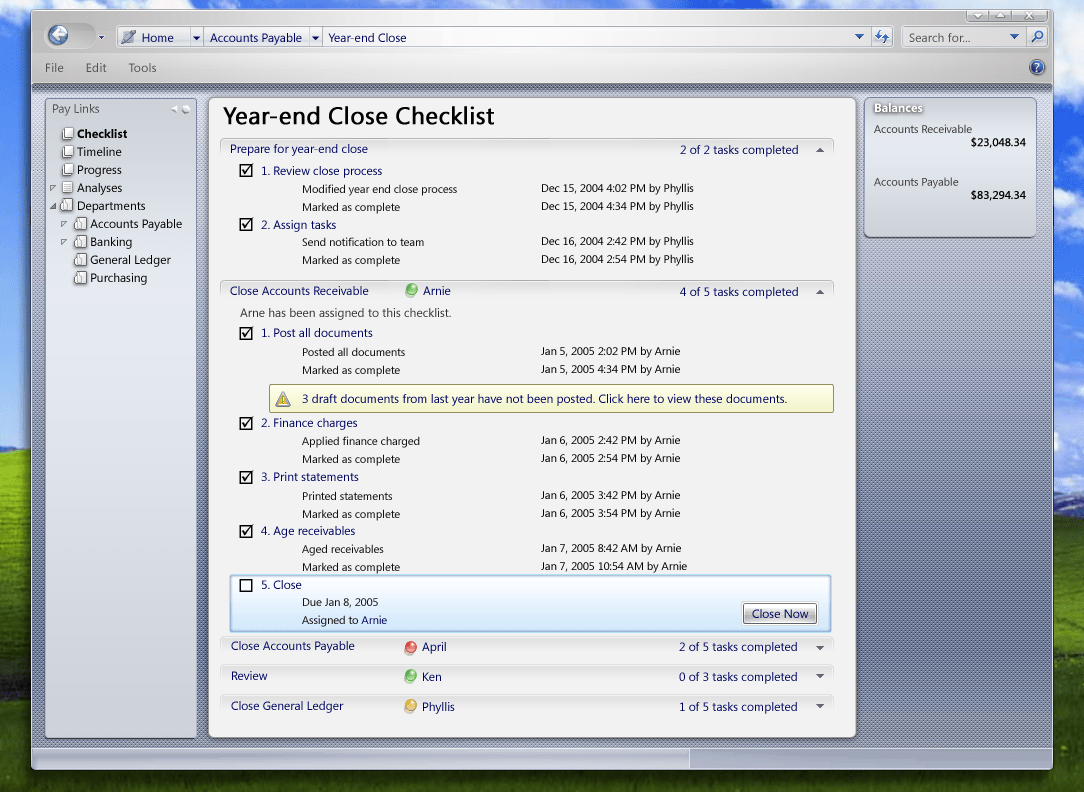 The design for activity centers came out of an extended research and analysis project around defining the ERP customer model. The activity center is a set of elements helping a user understand the status of work in a long running business process. It does this by showing the user what they need to do to complete their work within that process and what other people are working on. The set of elements shown in an activity center is determined by the customized business process.
As shown below, activity centers can take many shapes as appropriate to the business process.
Project Time and Expense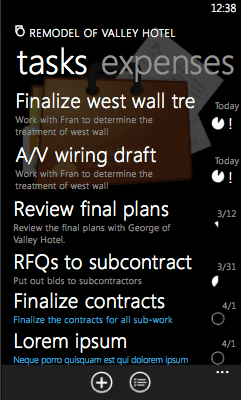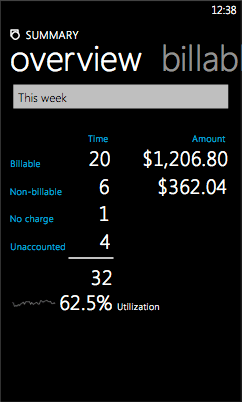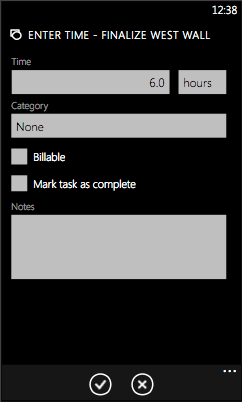 This is an exploration of a product to allow people to log project time and expenses in a service industry on the Windows Phone platform. The core scenario for this mobile application is that of monitoring tasks and deliverables.
Dynamics GP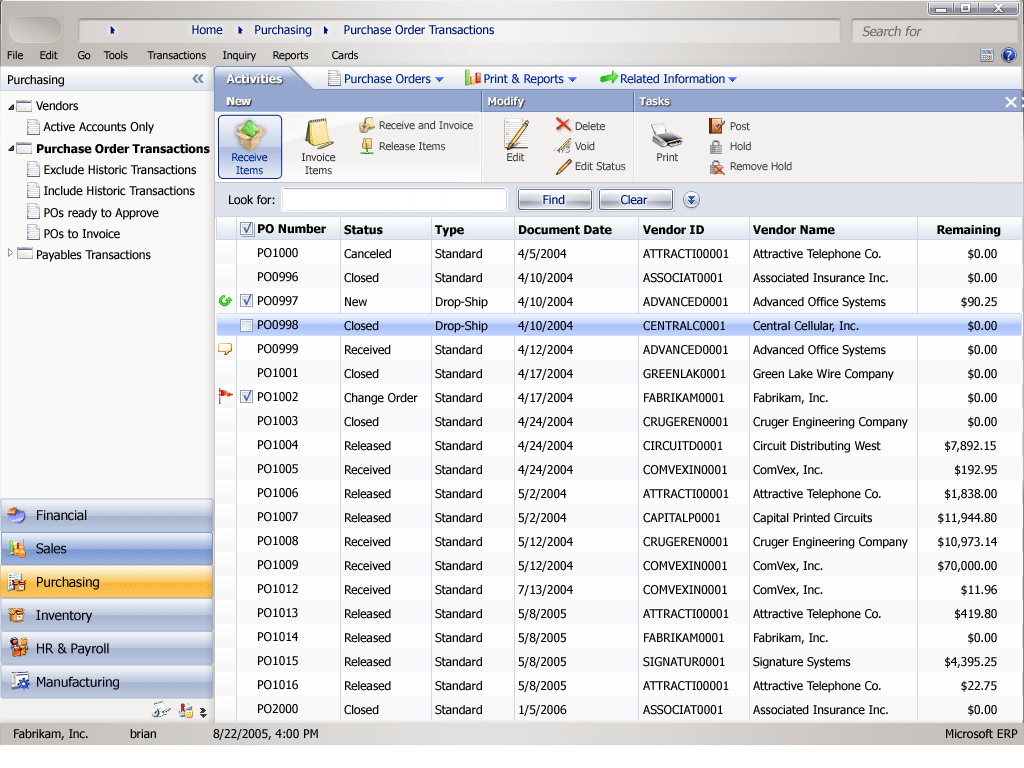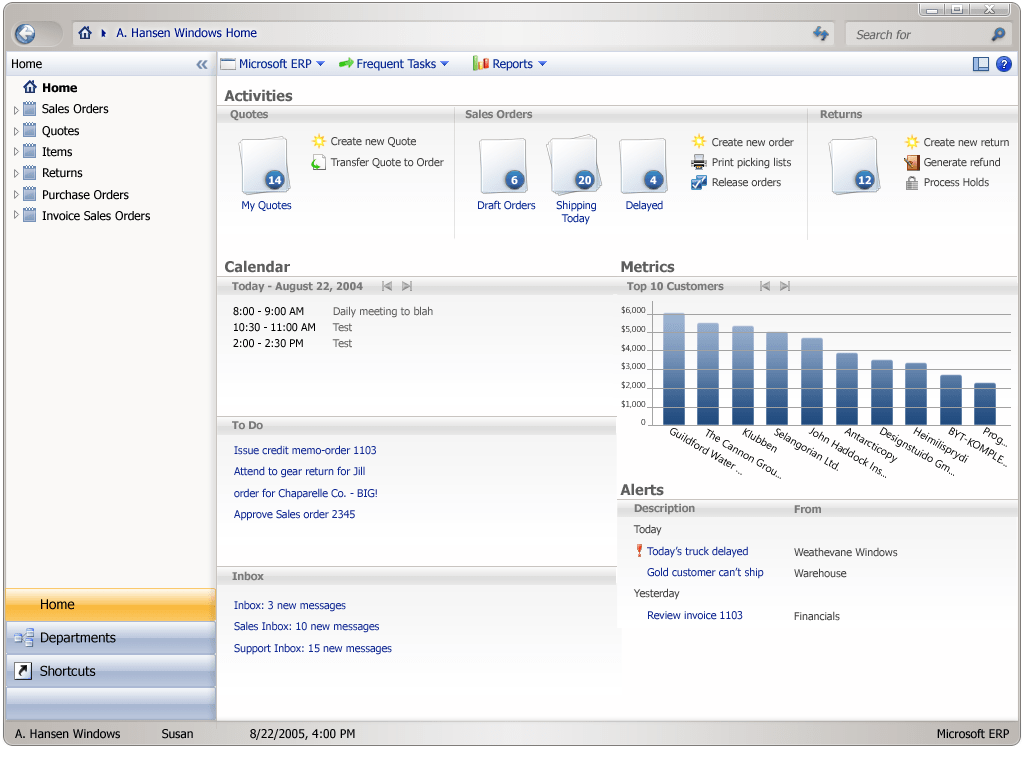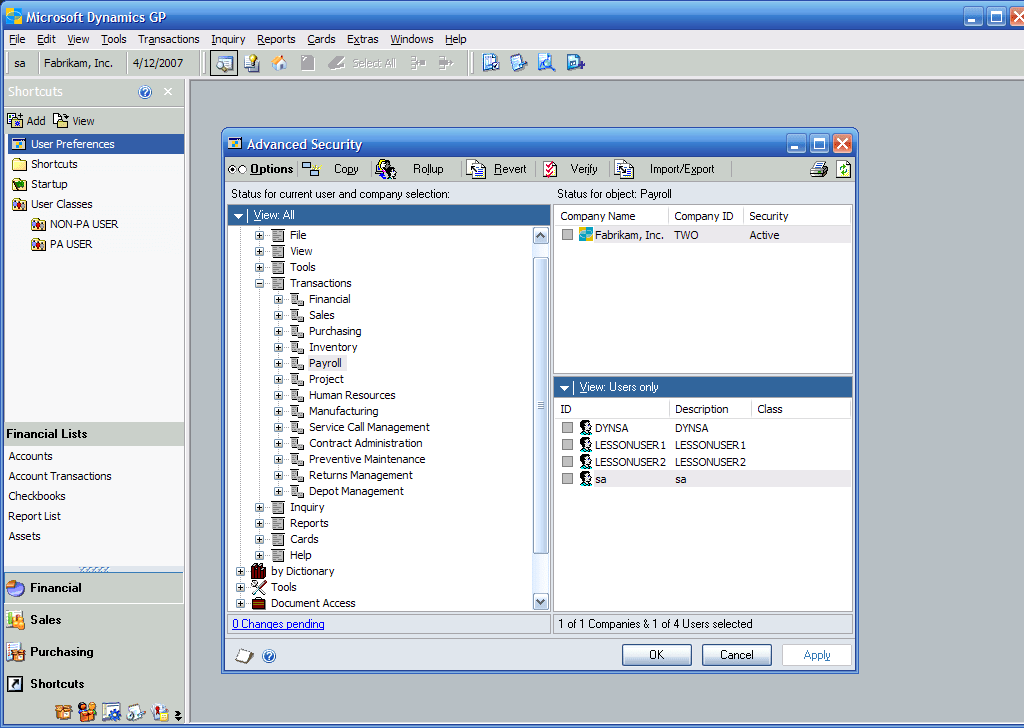 Over the course of several years working on Dynamics GP and Dexterity, I was involved in the design of several key product features, including:
Dynamics Explorer/Smartlist
Dynamics GP home pages
Dynamics Lists
Dexterity Tree view and List view controls
Advanced security
Dynamics GP Utilities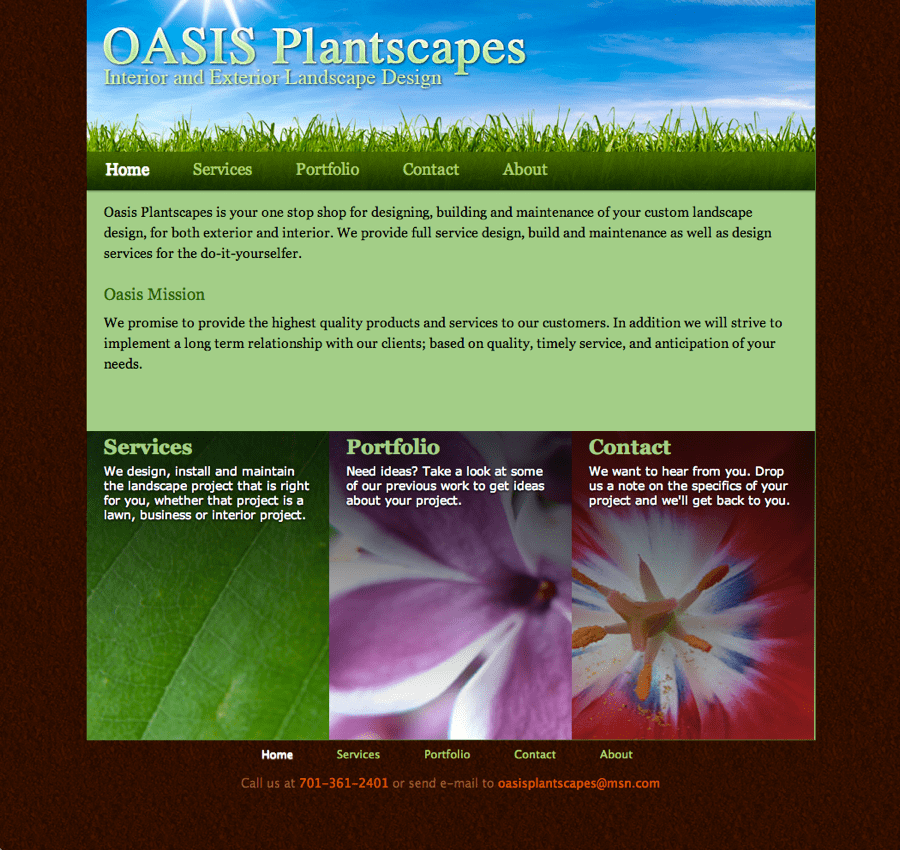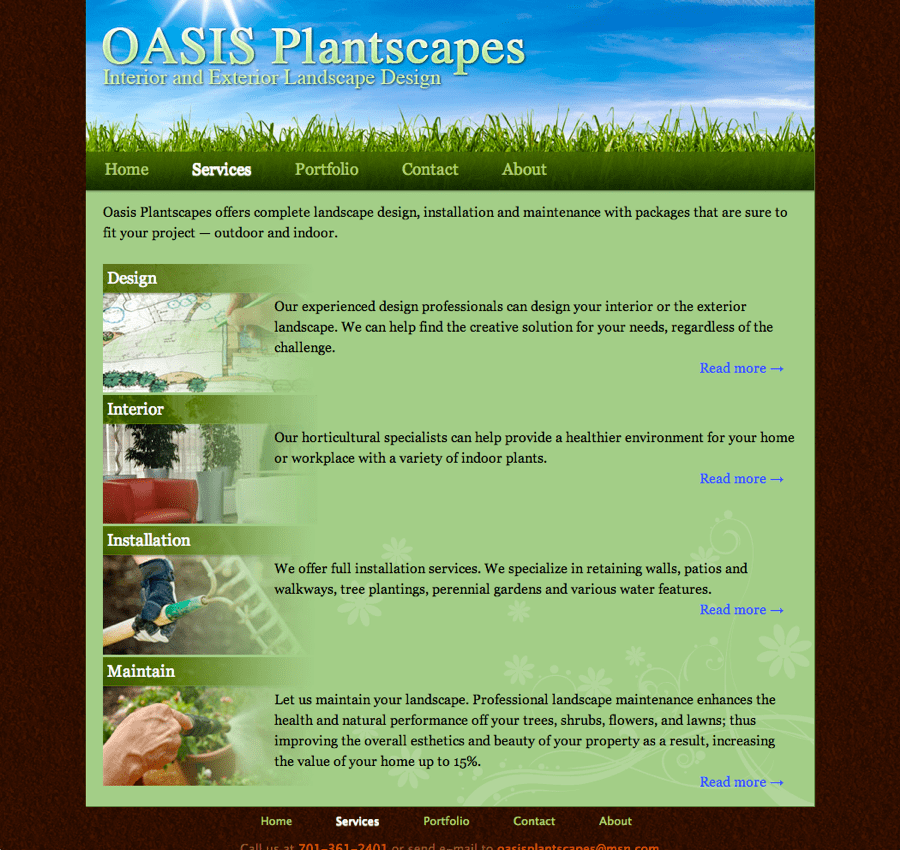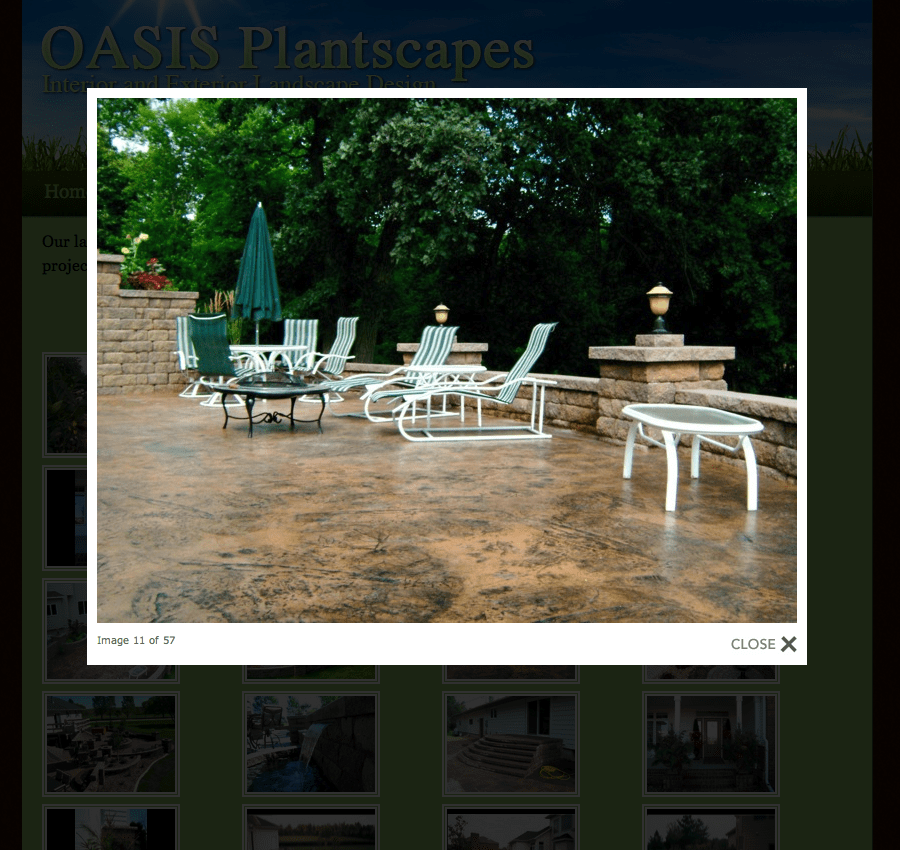 The owner of Oasis Plantscapes wanted a presence on the web for his business. After a discussion with him of the key requirements, I created several options as composites for the owner to review. The composites used Oasis Plantscapes original color schemes. The basic information to organize was information about the work that Oasis performs, information about the company, and a portfolio of their work.
The pages were generated using PHP to allow reuse of the HTML across the pages and to dynamically populate the portfolio album.